The Searchers vs The Seekers
ADVENTURES IN SYNCHRONISATION present The Seekers vs The Searchers
- the a/v event of the year -
This screening will be a one-off, once in a lifetime opportunity to witness an experiment in chance synchronisation – in which the soundtracks of two TV specials featuring The Seekers will be played against the image track of John Ford's classic western 'The Searchers' - and vice versa. For the first time in history John Ford's classic 1956 western goes head-to-head with Australia's first super-group!
See Hollywood superstar John 'The Duke' Wayne battle it out with top Australian singer Judith Durham.
Includes the smash hits 'Georgy Gir'l, 'The Carnival Is Over', 'I'll Never Find Another You', any many, many more!
Presented in Black and White AND Colour, 16:9 AND 4:3!
What people have said:
'Judith Durham... possesses the purest voice in popular music'.
Sir Elton John
'John Wayne is the termite actor, focusing only on a tiny present area, nibbling at it with engaging professionalism and a hipster sense of how to sit in a chair leaned against the wall.'
Manny Farber
'In Zen they say: If something is boring after two minutes, try it for four. If still boring, try it for eight, sixteen, thirty-two, and so on. Eventually one discovers that it's not boring at all but very interesting.'
John Cage
Adventures in Synchronisation are Ben Rowley and Andy Birtwistle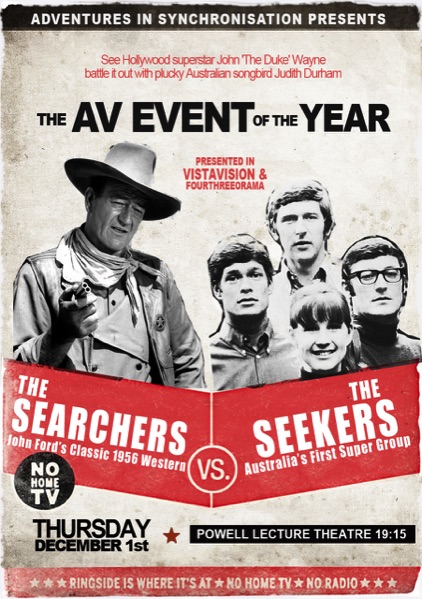 Poster by Ben Rowley and Alex Gardiner